Departmental Research Ethics Committees (DRECs)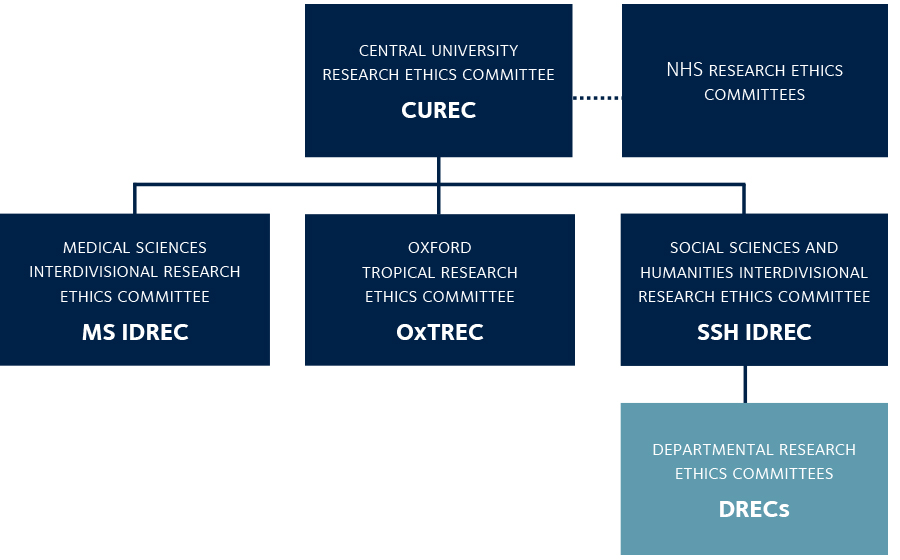 Departmental research ethics committees (DRECs) have delegated authority from the Social Sciences and Humanities (SSH) IDREC to approve research with 'straightforward' ethical issues (ie CUREC 1A applications). DRECs report to the SSH IDREC on a termly basis.
The following guide may be helpful to both DRECs and researchers:
Less straightforward cases where full CUREC 2 applications are required must be submitted to the DREC in the first instance for initial review, and processed by the DREC within three weeks of receipt. Once the DREC is satisfied, the CUREC 2 application will then be sent to the SSH IDREC for final review and approval. Where researchers apply for ethical review after the commencement of their research, they may only apply to the SSH IDREC, not their DREC.
Please see the SSH IDREC and DREC application process page for further information.
The following departments have DRECs. Please apply to the DREC following the same principles as for applications to the SSH IDREC.
Department
DREC name and Chair
Taking staff/student applications?
Contact for submitting applications or queries
Blavatnik School of Government
BSG DREC
Chair: Dr Julien Labonne
Staff and students
David Legg and Armando Roman Zozaya (ethics@bsg.ox.ac.uk)
Computer Science
CS DREC
Chair: Dr Andrew Martin
Staff and students
Sharon Backer-Holst and Katherine Fletcher (ethics@cs.ox.ac.uk)
Continuing Education
OUDCE DREC
Chair: Dr Alistair Ross
Staff and students
Tim Burman and Ingrid Locatelli (researchethics@conted.ox.ac.uk)
Economics
Economics DREC
Chair: Dr Simon Quinn
Staff and students
Eleonara Fulcini (eleonora.fulcini@economics.ox.ac.uk)
Education
Education DREC
Chair: Dr Liam Gearon
Staff and students
Jackie Bridges (research.office@education.ox.ac.uk)
International Development
ODID DREC
Chair: Prof Cathryn Costellov
Staff and students

Staff applications: Emma Rundall (emma.rundall@qeh.ox.ac.uk)
Student applications: Dominique Attala (dominique.attala@qeh.ox.ac.uk)

Oxford Institute of Population Ageing
OIA DREC
Chair: Prof Kenneth Howse
Staff and students
administrator@ageing.ox.ac.uk
Oxford Internet Institute
OII DREC
Chair: Prof Rebecca Eynon
Staff and students
drec@oii.ox.ac.uk
Oxford School of Global and Area Studies
OSGA DREC
Chair: Prof Timothy Power
Staff and students
Francesca Tucci (curec@area.ox.ac.uk)
Politics and International Relations
DREC
Chairs:
Dr Ezequiel Gonzalez Ocantos (Politics only)
Dr Karolina Milewicz (International Relations only)

BA, Masters and DPhil students only
(Staff will need to apply to the SSH IDREC instead)

Andrew Melling (andrew.melling@politics.ox.ac.uk)
Social Policy and Intervention
SPI DREC
Chair: Dr Jamie Lachman
Staff and students
Olivia Thornton (ethics@spi.ox.ac.uk)
Sociology
Sociology DREC
Chair: Prof Christiaan Monden
Staff and students
Agnieszka Swiejkowska (research@sociology.ox.ac.uk)
Saïd Business School
SBS DREC
Chair: Dr Janet Smart
Staff and students
Wei Jiang (ethics@sbs.ox.ac.uk)
School of Anthropology and Museum Ethnography

SAME DREC
Chair: Dr Elizabeth Ewart

Staff and students
Kate Atherton (kate.atherton@anthro.ox.ac.uk)
School of Geography and the Environment
SoGE DREC
Chair: Prof Jim Hall
Staff and students
Gillian Willis (curec@ouce.ox.ac.uk)
All DREC administrators and chairs have access to the DREC Network SharePoint site. The DREC Network meets termly. The SSH IDREC Secretary updates all DRECs on latest changes to CUREC forms, best practice guidance, approved procedures, and invites guest speakers on ethics-related topics, such as information security and research data management.
The SharePoint site also offers a 'DREC library' of useful resources, such as this reviewing guide:
The SSH IDREC encourages departments and faculties to consider setting up their own DREC. Please see the DREC template constitution, which all DRECs need to adapt for their own departments.
For further advice on how to do this, and how DRECs report to the SSH IDREC, please contact the SSH IDREC Secretary at ethics@socsci.ox.ac.uk.